Employers, like avid explorers, are embarking on a quest to utilize the transformative power of AI within their organizations. Picture a world where repetitive, time-consuming tasks are gracefully handed over to AI companions, enabling human minds to focus towards high-value, creative endeavors that truly elevate organizations. In its current form, AI challenges the concept of work and redefines how it is accomplished. But hold on! As we embark on this exhilarating journey, let us remember the importance of caution. New technology has the power to disrupt and unsettle. Employers must approach the introduction of ChatGPT and similar tools into the workplace with precision and thoughtfulness.
Unleashing the Potential: AI's Impact on the Job Market​
Public discourse platforms are currently the arenas upon which thousands of pro or anti-AI messages battle with each other every day. To say that there is a debate on the impact of AI on the labor force is an understatement. For some, the AI revolution does not show any signs of being different from the Industrial revolution, or the introduction of the internet. Both of these events revolutionized society's demands and expectations from laborers. 
That being said, in spite of people's fear of the proverbial machine taking away their livelihoods, all that was needed is a restructuring of the work force, with the market eventually creating new jobs for these displaced workers.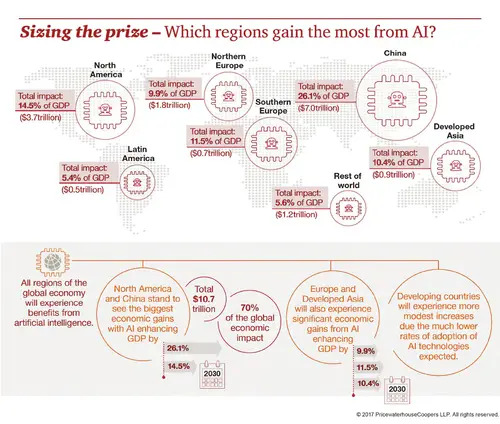 Figure 1: According to PwC, the potential of AI to add a
staggering $15.7 trillion to the global economy by 2030 is a testament to the
immense benefits that await us. The World Economic Forum predicts that by 2025,
a net gain of 12 million jobs may emerge, overshadowing the obsolescence of 85
million jobs. It's a dance of creation and transformation, where new
competencies, updated skills, and a fresh approach to working become the rhythm
of the future.
Creating or destroying: Two facets of a coin?
However, there is also the concern that AI advancements may lead to job displacement. As technological revolutions disrupt the labor market, some fear that certain occupations may become obsolete. It is crucial to address these concerns and ensure that AI is integrated responsibly. Measures must exist to support those affected by job transitions . Companies should avenues for reskilling and upskilling for their employees. Communication regarding these issues is also very important. First, addressing common AI-related, fear-inducing, talking points rationally and with transparency is key. Then, highlighting those avenues for reskilling at a company level is also important in order to install a sense of security and calm.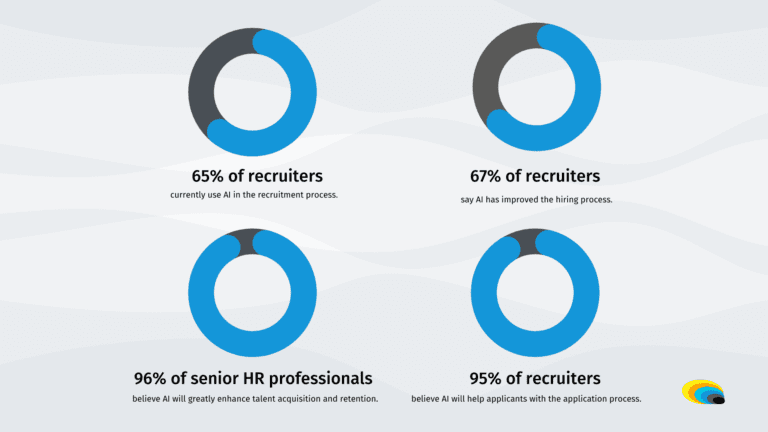 According to Flynn (2023), the recruitment industry is already becoming acclimatized with AI, with over 95% of recruiters believing that AI will help applicants in the application process, and 67% of recruiters believing that AI has improved the hiring process.   
     For companies introducing Artificial Intelligence education and training could be a useful way of equipping individuals with the skills needed to leverage AI in their respective fields. Conducting comprehensive skills mapping and assessments to identify the skills and knowledge that will remain relevant in the AI driven market could also prove to make a big difference. Also, collaborating with academics could ensure that the programs offered align with industry needs and provide individuals with the relevant skills demanded by the job market. Finally, and perhaps most importantly, companies' capacity to foster an environment of continuous learning and adaptability is paramount in encouraging individuals to stay updated with industry trends, pursue lifelong learning opportunities and develop a growth mindset.
Ethical Implementation of AI in the Workplace​
     The potential of ChatGPT to revolutionize knowledge management, HR and recruitment, learning and development, customer service, and content creation is vast. It offers opportunities for streamlined processes, improved decision-making, and enhanced customer experiences. AI can work tirelessly, minimizing human error and speeding up tasks that were previously time-consuming. It has the potential to create a more efficient and effective work environment.
     However, as we take our first steps into the world of AI, we must remember the importance of treading carefully. Employers must approach the introduction of ChatGPT and similar tools into the workplace with precision and thoughtfulness. There is a need for robust ethical guidelines to ensure fair and responsible usage of AI. Human oversight should be maintained to prevent biases and ensure that decisions made by AI systems align with ethical standards.  It is crucial to prioritize the well-being of employees and provide support during the transition to a technology-driven workplace.
Regurgitating AI content and the human touch
Many fear that AI, like ChatGPT, learns from biased content created by humans and reproduces those biases in its own output. This has been observed in ChatGPT, which is susceptible to generating inaccurate information. Another concern is the long-term effect of AI-generated content, which can be inaccurate. ChatGPT, for example, was trained on internet content up to 2021. New models seeking up-to-date information risk using inaccurate outputs from other AIs, leading to a cycle of inaccuracy. Systemically repeated, this cycle could result in a "rot" of the internet, where most AI-produced content is wildly inaccurate and indistinguishable from human-created content. This scenario paints a dystopian picture.
      While we marvel at the capabilities of ChatGPT, let us not forget the irreplaceable essence of human connection. It possesses an enchanting quality that AI can never fully replicate. ChatGPT may adeptly handle basic tasks, yet when faced with complex challenges, it may stumble in its steps. Businesses must ensure ethical and fair usage of AI, standing as vigilant guardians against biases, with human oversight as their guiding light. To embark on this new chapter, let us start small, building prototypes and training our people in this grand dance. Communication and employee involvement should be the partners that guide us, and the repurposing of skills for those potentially displaced should be a coordinated and sustained effort.
Conclusion : Is AI here to stay?
As the energy industry propels forward, propelled by the winds of change, the transformative potential of AI shines brighter than ever before. Together, we stand at the edge of a revolution, where humans and machines converge to redefine the boundaries of possibility. Let us embrace this paradigm shift with open arms, leveraging the power of AI to reshape the energy workforce and steer our world toward a sustainable and prosperous future.
WTS Energy is committed to forging this path, harnessing the potential of AI to train and empower professionals in the energy field. Join us as we embark on this journey, where innovation meets human ingenuity, and together, we redefine what it means to thrive in the energy industry of tomorrow.
Flynn, J. (2023). 15+ AI Recruitment Statistics [2023]: Hiring Trends, Facts, and Data. Zippia for Employers. https://www.zippia.com/employer/ai-recruitment-statistics/#:~:text=65%25%20of%20recruiters%20currently%20use,applicants%20with%20the%20application%20process.
PricewaterhouseCoopers. (n.d.). PwC's Global Artificial Intelligence Study: Sizing the prize. PwC. https://www.pwc.com/gx/en/issues/data-and-analytics/publications/artificial-intelligence-study.html