In every aspect of life, one crucial component powers our existence: energy. This term represents the capacity to do work or the power used to perform an action. It's present in various forms around us and is responsible for every movement, reaction, and process we observe.
Let's dive deeper into understanding the basics of energy, its forms, sources, and why it's pivotal to our daily life.
Understanding the Concept of Energy
At its core, energy is the driving force behind all activity, be it on a microscopic or macroscopic scale. From the smallest atomic particles to the vast celestial bodies, everything in the universe relies on power to function.
Different Forms of Energy
Energy comes in many forms, each with its own characteristics and uses. Two primary categories are potential energy, stored in an object due to its position or state, and kinetic energy, associated with an object in motion.
The table on the side, shows the many different forms energy is produced and the source of every type. 
Our planet boasts a wide range of energetic sources. Some, like coal, oil, and natural gas, are non-renewable, meaning their supply is finite. Others, like solar, wind, and hydropower, are renewable, harnessing natural processes to produce power.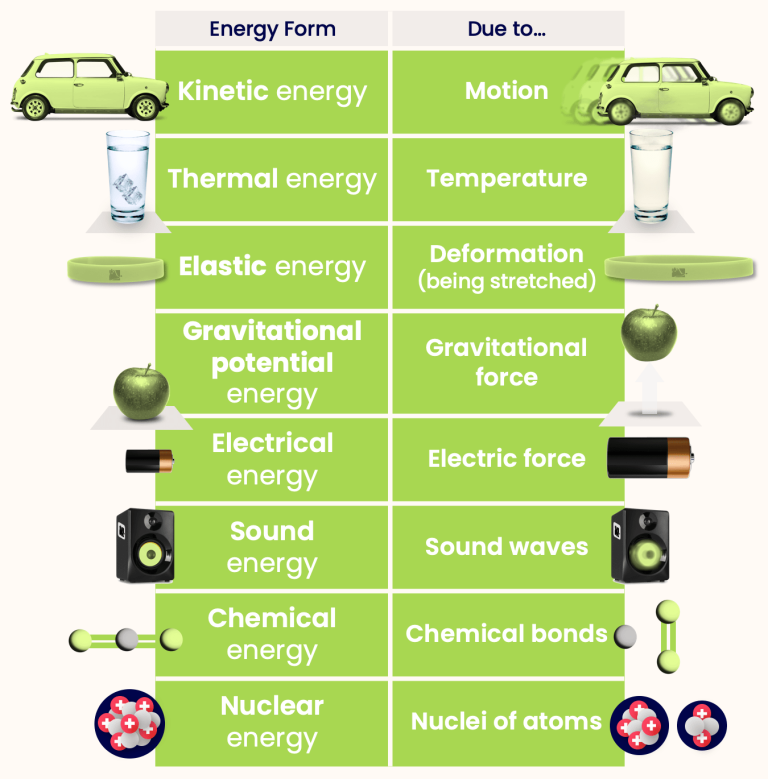 Energy is essential to every aspect of our lives. It powers our homes, fuels our transportation, and drives industrial processes. Moreover, our own bodies rely on energy obtained from food to function.
Given its central role in our lives, conserving energy is crucial. Energy conservation not only saves money but also reduces the demand for non-renewable resources, promoting environmental sustainability.
In conclusion, energy is an integral part of our existence. Understanding its nature, sources, and importance can guide us towards more sustainable and efficient use.
In the end, every step we take to understand and conserve energy brings us closer to a sustainable future, in which our relationship with energy is balanced and respectful of the environment.
Frequently Asked Questions
It is fundamentally the capacity to do work or perform an action. It powers all processes, from the tiniest particles to the vast celestial bodies.
It can take many forms, including potential energy (stored due to an object's position or state) and kinetic energy (associated with an object in motion). Other forms include thermal, chemical, and electrical energy.
For reducing our dependence on finite, non-renewable resources, saving money, and promoting environmental sustainability. It plays a key role in ensuring a sustainable future.