In our quest for sustainable living, one critical process is becoming increasingly important: the energy audit. This process involves a thorough evaluation of energy use within a structure or facility, highlighting where and how energy can be used more efficiently.
So, why does this matter, and how does it work? Let's explore the concept of energy audits further.
Unraveling the Energy Audit Process
An energy audit, at its core, is a systematic review of energy use in a building or facility. The goal? To pinpoint inefficiencies and propose potential improvements for energy savings, cost reductions, and improved sustainability.
Significance of Energy Audits
These audits offer a pathway to better energy management. By uncovering areas of excessive energy use, they provide effective strategies for reducing environmental footprint and utility costs.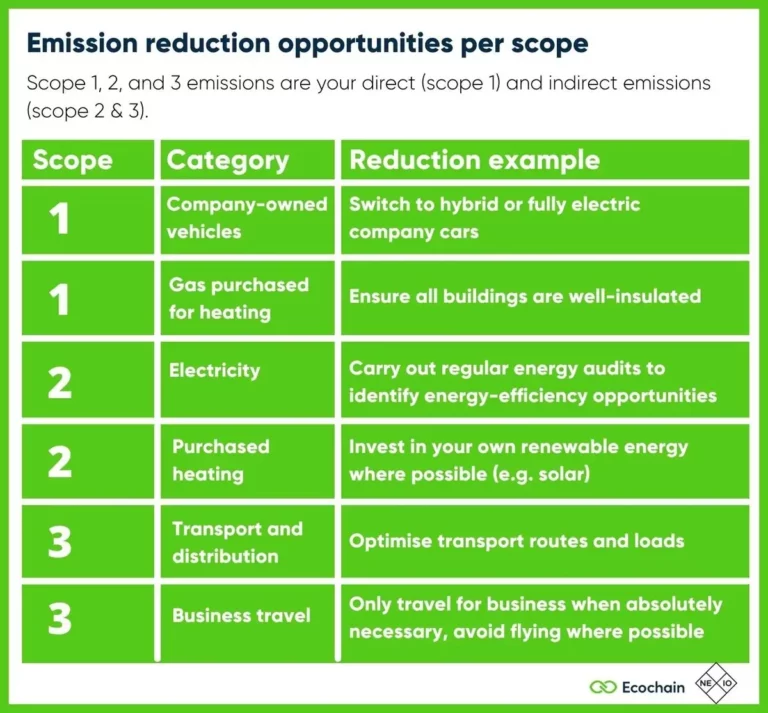 The table above, made by EcoChain, highlights the different ways companies can reduce their emissions. In this case, comapnies are advised to also pay attention at the emissions allocated to every scope. The scopes will vary depending on the characteristics of each company.
Procedure of Conducting an Energy Audit
To begin, an audit starts with a detailed examination of energy bills to evaluate a building's energy consumption. Following this, a physical inspection of the building takes place where heating, cooling, and lighting systems, among others, are assessed for efficiency.
A comprehensive report is then prepared, detailing potential areas of concern and offering recommendations for enhancing energy efficiency. The final stage is implementing these changes, which can vary from minor usage adjustments to significant equipment upgrades.
Benefits of Conducting Energy Audits
Through these audits, we can reap numerous benefits. Notably, they pave the way for significant energy savings and lower utility costs. Plus, they contribute to a healthier environment by reducing greenhouse gas emissions.
In conclusion, understanding the energy audit process equips us to make informed decisions about energy use. As we work towards a more sustainable future, these audits are pivotal for efficient energy management.
After all, each step we take, like conducting an audit of energy, propels us closer to a more energy-efficient, sustainable world.
Frequently asked questions
The primary purpose of an audit of energy is to assess how and where energy is consumed within a building or facility. By identifying inefficiencies and proposing improvements, these audits play a crucial role in enhancing energy savings, reducing costs, and promoting sustainability.
The frequency of an audit of energy can vary depending on the size of the facility and changes in energy usage patterns. However, it's generally advisable to conduct an audit every 3 to 5 years to keep up with advancements in energy efficiency and to identify new opportunities for improvement.
Once an audit of energy is completed, a detailed report is provided highlighting the areas of concern and suggesting ways to improve energy efficiency. The next step is implementing these recommendations, which may range from simple changes in behavior to more significant changes like retrofitting or upgrading equipment.