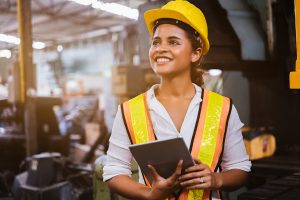 The Oil, Gas and Energy industries have commonly been male dominated fields.
Increased awareness on the topic and newly developed educational models and job programs are enabling and empowering women to enter these job markets more easily.
However, there is still a long way to go until the gender gap is completely reduced.
And while we continue to disrupt the industries and pave a more inclusive path, we can look back at female figures who know what is like to be in these trenches and learn from their experiences.
That is why this week we compiled a list of 10 must-read books that are all about mental and physical barriers that keep women from thriving in their workplaces.
10 books to nurture the mindset, get some practical guidance and use the odds to one's favor.
Career insight brought to you through a down-to-earth approach that goes beyond social commentary and gender issues. Stephanie Slocum, an engineer with fifteen years of experience, gets down to the specifics that can help women succeed in the field. Each chapter finishes off with a list of immediate actions to take so you can start seeing the payoff of all the time and work you've invested in your career.
Susan Packard introduces a dynamic often shared by men in the world of gaming and sports: 'gamesmanship'. It is a mindset that fosters creativity, focus, optimism, teamwork, and competitiveness and that women can use to strategically level the playing field at work.
An international bestseller and one of the go-to books when it comes to talking about women empowerment. Sheryl Sandberg talks from her experience working at some of the world's successful businesses and shines light on the ways women can find confidence in their own voice and achieve their full potential.
This book is all about courage. But not just any type of courage.. courage in being vulnerable. In this book, Brene Brown wanders around the common perception of seeing love, belonging, joy, empathy, innovation and creativity as weaknesses in the workplace. Instead, she poses that shutting off our vulnerable side "distances ourselves from the experiences that bring purpose and meaning to our lives".
A great read that highlights 130 behaviors that women learn from a young age that ultimately aid in sabotaging their adult life. No worries, though. Lois Frankel doesn't leave you stranded. Instead she guides you in correcting these bad habits and offers simple tips to start improving your business and social skills.
In this book, Tarah Wheeler Van Vlack talks to other 5 women in the industry about the obstacles they had to overcome in doing what they love. It is a roadmap for women who are looking to jump-start their career, written by the CEO of a start-up who knows from first-hand experience the challenges of being a female tech professional.
The autobiography of the woman who uncovered Sillicon Valley's toxic homogeneous culture after suing a capital firm for discriminating and retaliating women and other underrepresented groups at the workplace. Ellen Pao's story is an empowering statement that challenges the office status quo.
No matter the context in which you find yourself in, this book helps to identify and break patterns that put women at a disadvantage. It is a framework that shows how you can be assertive, confident and a well-rounded leader, without getting harmed in the process.
The perfect balance between personal stories, inspirational quotes, mantras and workbook sections made for women who dare to reinvent themselves. It is built to provide you with a complete overview to help you propel you personal and professional life.
A collection of anecdotes and essays from global female leaders in STEM fields that emphasize how valuable technological advancements can only be achieved through collaborative work between men and women. It calls for equal opportunities in engineering fields to increase the likelihood of building life-changing and life-saving solutions.