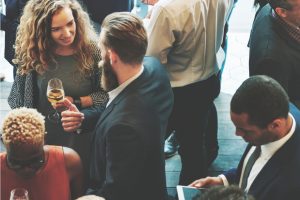 We hear it everywhere and yet, we can't help to dread it a little. Networking can be time-consuming, confusing and easily turned into awkward situations.
However, when carried out right, it can bring an immense amount of value to your personal and professional life. So, we've put together a number of tips to make networking easier and more enjoyable
First and foremost, it is important to understand what networking is not about. 
It is not about meeting a handful of people just never speak to them again. It is not about merely asking for favors. It is not strictly limited to cocktail parties. 
Networking is all about building and nurturing long-term, mutually beneficial relationships with people inside your same fields of interest (although networking with people outside these fields is just as valuable. You never know where life will take you). 
It is a multi-approach and multi-channel activity. You don't have to be invited to big events or conferences to cease the opportunity. Even though it will surely help to physically meet your contacts at some point, you can start building your network from the comfort of your home, which takes us to tip #1: 
Take Social Media Seriously 
If you reached this blog post through our LinkedIn page, you are already one step ahead. LinkedIn enables a platform where professionals in your same field can share info on the latest industry trends, technologies and tools. It is also the easiest way to approach and come in contact with people that share your same interests and vision. 
A great way to maximize the networking opportunities in LinkedIn, or in any other social media, is to join groups. Quickly type in relevant terms pertaining to your professional career in the search bar and prepare to join users who just like you, are just looking to connect.
To establish your expertise and professional value as a contact in online platforms, make sure you are regularly posting thought-provoking pieces that are relevant to your industry's current affairs. This will increase your credibility and place you as a thought-leader in your community. 
Go back to your roots
Reach out to alumni groups or peers from your educational background. Chances are they are involved in fields related to your and can therefore add value to your professional life while putting you in contact with other people from their own networks. Also, conversations will flow more easily as you'll already have something in common. 
Start early 
Most people get in the networking mindset when they are looking for jobs. Don't wait up. The sooner you start building meaningful relationships, the better the payoff. Years will amount to practice that'll make approaching new people feel more natural. And, nurturing your relationships with anticipation will make it more likely to have good references and valuable professional guidance, if you ever come to need your network.
On this note, make sure you start speaking to recruiters ahead of time, and keep them in your contact groups. Recruiters are knowledgeable about job market conditions and can give you advice on what skills or certifications are important at the moment. 
Reciprocate
Understand that networking is a two-way path. Make your relationships mutually beneficial by always helping out your connections in whatever ways you can. 
Be prepared
Make sure you are on top of your game by reading about the latest news in your area. Subscribe to relevant news sources and keep up with industry movers and trends. By staying up to date, it will be easier to break the ice with new contacts and will add on to your credibility. 
Also, learn how to talk your walk. You never know when the next great opportunity will cross your path. Always have a readily available elevator pitch to present yourself and your achievements in an engaging and concise manner. It will pay off.