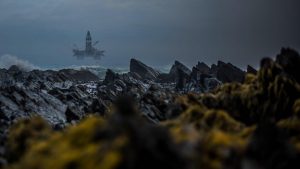 The Rig, an Amazon Original supernatural thriller, has chosen an oil rig down the east coast of Scotland to be their filming location.
The show will narrate the tale of the crew at the Kishorn Bravo oil rig, a fictional platform located in the turbulent waters of the North Sea. As the crew is about to return to land, a mysterious fog rolls through the rig, cutting off all communication with the outside world. As the crew works to figure out what's going on, allegiances are formed, they question loyalties and bonds are broken.
The show poses questions about the environment, survival and human nature. It will be broadcasted later in the year and will be available to all Prime members with no additional costs.
4 other films and TV shows that featured an Oil & Gas set:
1. Deepwater Horizon (2016)
IMDb rating: 7.1/10
Starring Mark Wahlberg, Deepwater Horizon is a dramatization of the real-life oil spill and explosion that took place on April 10 in the Gulf of Mexico. The movie was nominated for two Academy Awards – Best Sound Editing and Best Visual Effects; one People's Choice Awards – Favorite Dramatic Movie; and won a Teen's Choice Award for Dylan O'Brien's performance.
2. Man of Steel (2013)
IMDb rating: 7.0/10
Written by Warner Bros, Man of Steel narrates the story of Clark Kent aka Superman. As Superman ventures through his quest of saving the world from annihilation, he must help a crew evacuate from a burning offshore rig. He uses his super strength to hold the falling structure as the crew manages to board an emergency response helicopter.
3. Iron Man 3 (2013)
IMDb rating: 7.1/10
At the end of the film, Tony Stark calls all his suits to fight by his side on his final battle with Killian. The battle starts on a rig, which once again, is caught up on fire. At some point, the pillars start falling down, destabilizing the entire structure. Iron Mark then asks his heavy-duty suit, Igor, to come and use his tremendous strength and power to stabilize the rig.
4. Rig 45 (2018-2020)
IMDb rating: 6.1/10
Rig 45 is another Amazon Prime thriller – this time produced in Sweden. The show, which consists of two seasons, follows Andrea travels to an Oil platform in the North Sea to investigate a fatal accident. After a ranging storm that has cut off all communication, she and the crew soon realize that there is a killer on board.
Did we miss any other top films or TV shows that feature an Oil platform?