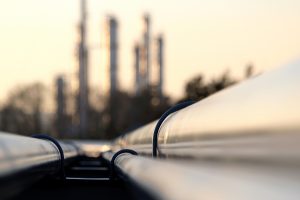 A couple months into 2020, planes stopped flying, roads cleared out and Zoom took over the world.
The global demand for oil barrels -which had amounted to 100 million per day the year before-, dropped to 29 million a day in 2020.
A lot of major industry players then predicted that oil would never return to what it had been before, making 2019's figures the peak point in oil history.
Although It is extremely difficult to recognise shifts in the industry until after they have already happened, especially since new developments in the light of the pandemic will keep on occurring throughout 2021, there seem to be permanent changes in regard to:
– The policies that underpinning Oil and Gas, and
– COVID's influence in accelerating the transition towards new sources of energy.

Underpinning policies
November saw oil prices rise under the context of positive coronavirus vaccine trials and an increasing demand in Asia.
However, the extent of oil's rebound is still partly conditioned by economic policies that forecast a permanent change in societal behaviour. This means, continuous working from home, less traveling and more digitalisation.
BP estimates that "Covid's impact on oil demand will be from setbacks to the global economy… and one third will be from permanent changes in behaviour."
Sunshine is the new oil
For almost two decades, the rise of solar power has ben underestimated.
Every year, it was expected that the rate of growth would level off and that solar installers would stop hiring.
Every year, the opposite happened.
However, this year the International Energy Agency changed the nature of its forecasts, naming Solar Energy the new king of electricity.
Then again, the end state of these forecasts and decisions are not set on stone. If 2020 has taught us something is that there is a big risk in anticipating the future while living in our current, volatile world.